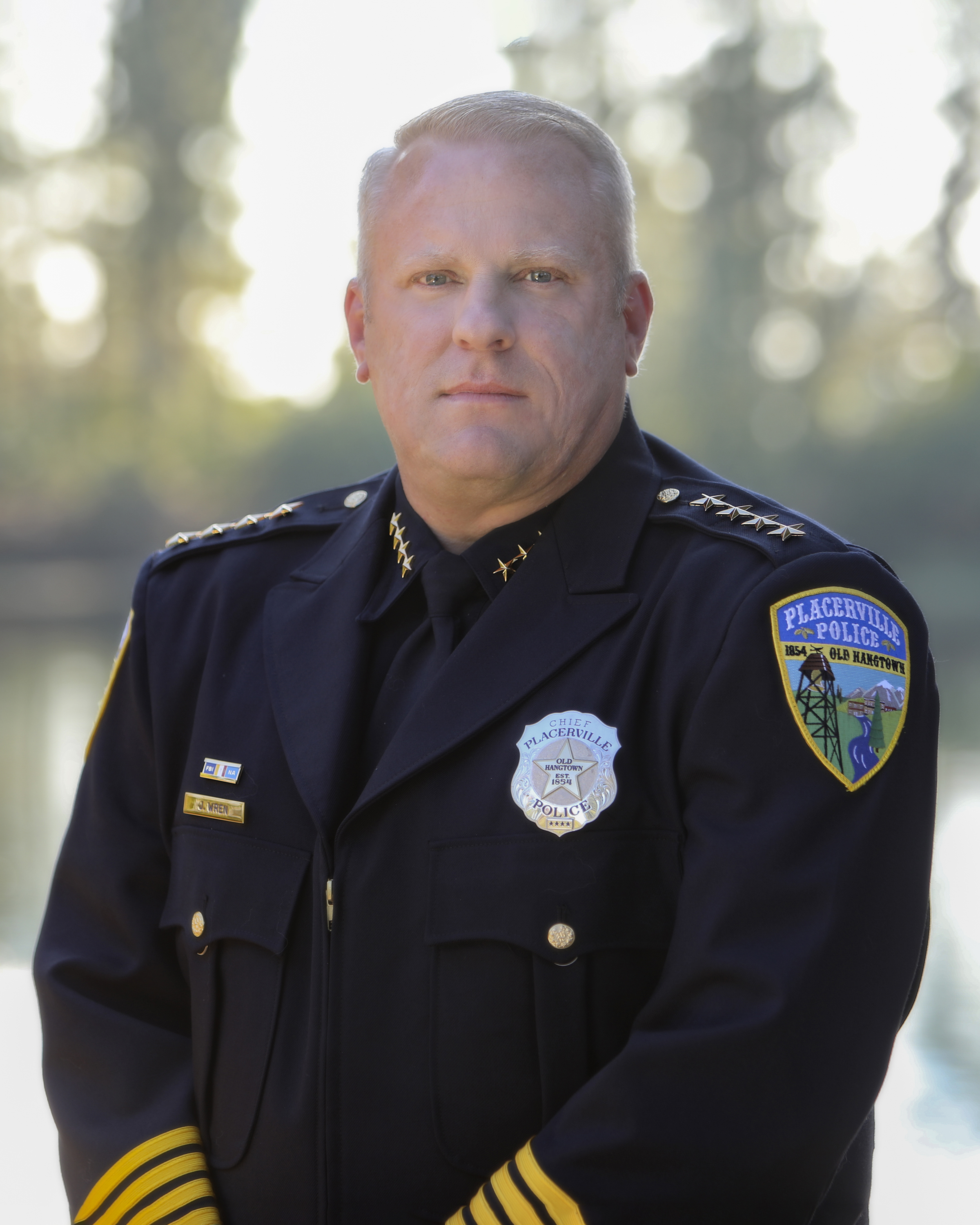 Message from the Placerville Police Department:
On behalf of the team here at the Placerville Police Department, thank you for taking the time to visit our webpage. As you get to know the Placerville Police Department, you will see that we are engaged with our community to help make Placerville a safe place to live, work, and visit. Each and every day, the team here at the Placerville Police Department works diligently to serve you with professionalism, integrity, and justice. We commit to you that we will remain vigilant and protect everyone's constitutional rights while justly enforcing the law and keeping order.
The City of Placerville is a great community of engaged residents and business owners. We continue to work with various regional partners, as well as public and private stakeholders in an effort to make Placerville the safest community in the foothills. We invite you to follow the Placerville Police Department on social media and please let us know if you have any questions about our fine department.
The Placerville Police Department is proud to be Partners with the Community! Thank you for allowing us to be your police department.
Chief Wren is a 24 year veteran of law enforcement, having held assignments in-field training, SWAT, and homicide investigations.  Born and raised in the farming community of Merced County, Chief Wren worked in Agriculture and Dairy until joining the United States Marine Corps.  After four years and the birth of the first of his three children, Chief Wren completed his service as a Marine and attended the police academy in Modesto, CA.  Still having a desire to serve, Chief Wren enlisted in the Ca. Army National Guard where he served as a Non-Commissioned Officer, leading an infantry squad.  After graduating from the police academy, Chief Wren started his career in the foothills where he gained a keen sense of community and service to others.  
After several years Chief Wren moved back down to the central valley to be with his aging parents.  Working for the Ceres Police Department, Chief Wren distinguished himself as a K9 handler, receiving the lifesaving medal, law enforcement Medal of Valor as well as being named the American Red Cross Hero of the Year in 2007 and again in 2013.  Working his way through the ranks, Chief Wren served Ceres as a watch commander and special unit supervisor before coming back to the foothills.  Chief Wren came to the Placerville Police Department in January 2016 as the Operations Commander, bringing insightful leadership experience.  
Chief Wren earned his Bachelor's Degree in Criminal Justice and his Master's Degree in Business Administration with a concentration in Finance.  Chief Wren is a recent graduate of the FBI National Academy session #279.  
In his spare time, Chief Wren enjoys spending time with his family, including his two dogs, and continually training in Brazilian Jiu-Jitsu and MMA.  When asked about his core values, Chief Wren said that faith, family, and service are the pillars of his beliefs.