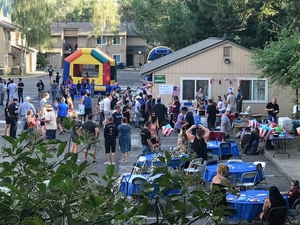 NATIONAL NIGHT OUT  AUGUST 1, 2023
National Night Out (NNO) is an annual campaign from the National Association of Town Watch that promotes community partnerships and neighborhood camaraderie to make our neighborhoods a safer, more caring place to live.  The Placerville Police Department proudly participates in NNO each year.  Our involvement with our community has brought us a #1 ranking in California for several years!
The community and the police come together the first Tuesday in August every year for good, old-fashioned BBQs with hot dogs, chips, and drinks all provided by generous sponsors each year.  The Placerville Police Department is always looking to improve on the event each year and needs volunteers to host a party in their neighborhood or help with activities on the day of NNO.  Additionally, without the generous donations from our sponsors, we would not be able to coordinate such a fantastic event. Placerville's National Night Out is funded solely on donations and cannot do it without your help from our generous sponsors. Your financial support can make a big difference in the lives of our residents and our community. We encourage support through monetary or gift card donations, but we also accept product donations as well.  Donations can be made to The Placerville Police Department and may be tax-deductible. Tax ID number 94-6000396. If you are interested in sponsoring, volunteering, or hosting a block party, please email the National Night Out Coordinator Sgt. Aaron Pratt at apratt@cityofplacerville.org 
National Night Out 2023 Coordinator/Volunteer Registration Form. Submit this form to host a BLOCK PARTY!
For more information on National Night Out visit their website. 
See you on the first Tuesday in August!