WELCOME TO THE CITY'S CAPITAL IMPROVEMENT PROGRAM PROJECT WEBPAGE!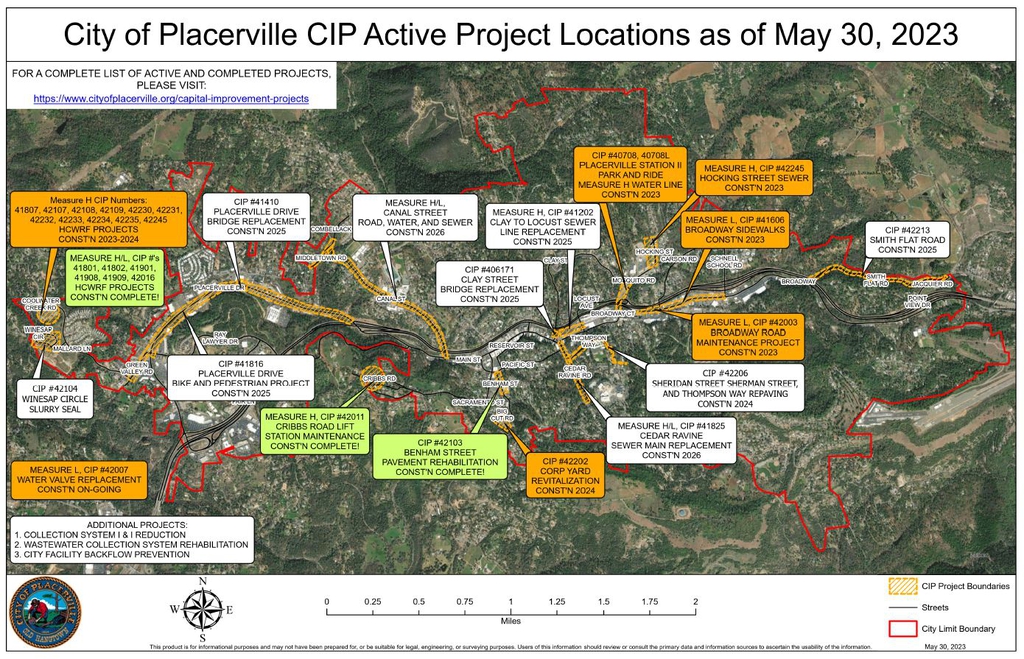 Click here to access our RFP/RFQ/Construction Bid Website.
***List Below is Current as of May 30, 2023***
PROJECTS IN ENVIRONMENTAL DOCUMENTATION PHASE
**Link to City Environmental Documents Page**
Canal Street Improvement Project (CIP 41821)
Cedar Ravine Creek Sewer Relocation (CIP 41825)
Hangtown Creek Sewer Relocation (Clay St to Locust Ave) (CIP 41202)
And many, many more.... 
PROJECTS IN FINAL ENGINEERING DESIGN 
Smith Flat Road Storm Drain and Repaving Project
Sheridan, Sherman, and Thompson Way Repaving Projects
UPCOMING CONSTRUCTION/IMPLEMENTATION PROJECTS:
Broadway Sidewalks, Out to Bid
Broadway Maintenance Project (CIP 42003), Bidding June 2023
Placerville Station II Park-N-Bus - Federal and Local Funds, in Construction
Cribbs Lift Station Rehabilitation (CIP 42011) - Measure H - In Construction
WRF:  Modular Treatment Unit No. 1 - Measure H and Sewer Enterprise Funds, in Construction
Hocking Street Sewer Replacement Project (CIP 42245), Construction Summer 2023
Sherman Street Repaving (CIP 42008) - Measure L, Construction 2024
Sheridan Way Paving (CIP 42324) - Measure L, Construction 2024
Thompson Way Repaving (CIP 42206) - Measure L, Construction 2024
Clay Street Patch Paving and Type 2 Slurry, Coleman to Franklin - Measure L funds, Construction 2024
Upper Main Street Maintenance (CIP 42323), Measure L, Construction 2024
Smith Flat Road Storm Drain and Repaving (CIP 42213) - Measure L & Other Funding Sources, Construction 2025
COMPLETED CONSTRUCTION PROJECTS (Since 2015)
Trip to Green Pilot Project on Highway 50 - State CRSSA Funds,  

WTS 2022 Innovative Project of the Year Award!

Benham Street Paving Rehabilitation (CIP 42103), 2022 

Fire Hydrant Replacement Project, 2022


WRF:  Anaerobic Digester #2, 2021

Winesap Circle Slurry Seal, 2021

WRF:  Modular Treatment Unit No. 2, 2021

Conrad Street Sewer Replacement, Project 

Plans

 and 

Specifications

, 2021
Western Placerville Interchange, Phase 2.2 - Eastbound On-ramp, Project Plans, 2021
Town Hall Parking Lot Repaving, 2021
Middletown Road Repaving, 2021
Coon Hollow Repaving, 2021
Dimity Road Paving Contract, 2021
Morrene Road Paving Contract, 2021
Mosquito Road - Phase II:  Stabilization Project and Paving, Project Plans, 2021
Lower Main Street Asphalt Rehabilitation Project, 2020
Upper Broadway Bike Lanes (CIP 41508), Project Exhibit, Project Plans - Bike and Ped, 2020
Broadway Storm Drain Project, 2020
Western Placerville Interchanges Phase 2 (CIP 41828) - APWA Sacramento Chapter Transportation Project of the Year 2020, CMAA Project of the Year 2021!
Schnell School Road Repaving, 2020
Ray Lawyer Drive Paving, 2019
Lead Water Service Replacements (Various Locations), 2019
Canal Street Pavement Rehabilitation at El Dorado High School, 2018 - APWA Sacramento Chapter Project of the Year 2018!
Sierra Tank Bypass Project at Country Club Drive, 2019 - APWA Sacramento Chapter Project of the Year 2019 - Environment - Water Category!
Placerville Drive Paving - Fair Lane to Ray Lawyer Drive, 2018
Woodridge Court Paving, 2018
Green Valley Road Paving
Pacific Street Paving, 2018
Country Club Drive Pothole and Crack Repair
Big Cut Road Pavement Repair, 2018
Lower Airport Road Pavement Repair, 2018
Upper Airport Road Pavement Repair, 2018
Schnell School Pressure Reducing Station, 2018
Madrone and Giovanni Lift Stations Project - APWA Sacramento Chapter Project of the Year 2019 - Structures Category!
WRF:  ATS Bypass (Wastewater Plant)
WRF:  Grit Classifier (Wastewater Plant)
WRF:  Grit Pump Replacement (Wastewater Plant)
WRF:  Headworks Screen Replacement (Wastewater Plant)
WRF:  Creek Streamflow Gauge (Wastewater Plant)
Main Street Rehabilitation Project (CIP 41412) 

Measure H Local Sales Tax Project for Waterline Replacement and Sewer Rehabilitation!
Construction Completed July 2016
APWA Sacramento Chapter Project of the Year 2016 - Historical Restoration/Preservation Category!

Pardi / Big Cut / Sacramento Street Area Waterline Replacement 

Measure H Local Sales Tax Project!
Construction Completed May 2017
APWA Sacramento Chapter Project of the Year 2017 - Environment - Water Category! 

Fair Lane Repaving, 2018
Center Street Parking Lot, 2019
El Dorado Trail - Segments 1 and 2 (CIP 41308 and 41204) 

Construction Completed March 2015
APWA Sacramento Chapter Project of the Year 2015 - Parks & Trails Category! 

Broadway Crosswalk Project (CIP 41506)  - Completed May 2016
Western Placerville Phase 1B (CIP 41413)  - Completed December 2016
Blairs Lane Bridge Replacement Project (CIP 40604)  - Final Project Close Out In Progress
Parking Garage Restriping, 2019
---