Development Services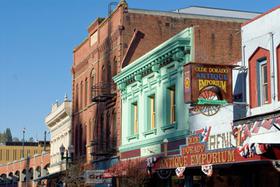 IMPORTANT NOTICE: AS OF MARCH 19, 2020, CITY HALL WILL BE CLOSED TO THE PUBLIC. We thank you for your patience.
Development Services Department
3101 Center Street
Placerville, CA 95667
(530) 642-5252/5240
At this time, we are not accepting appointments due to the closing of City Offices.
Monday-Friday (except for Holidays) we can be reached via the telephone (530) 642-5252 or (530) 642-5240 or via email at pv.planning@gmail.com (allow 24 hours to return your call or email).
For more information concerning:
Planning Division please go to the Planning Division web page or call (530) 642-5252 or email: pv.planning@gmail.com , for Building Division go to the Building Division web page or call (530) 642-5240 or email: pville.building@gmail.com and for Code Compliance go to the Code Compliance web page or call (530) 642-5240/5252 or email: pv.planning@gmail.com
Development Services Announcements (Provides information on Public Notices, Building Division, Planning Division, and other information related to Development Services)
Development Services Department Fee Schedule
Our Mission

We embrace a positive, adaptable, and common-sense approach to all development, engineering, and land planning endeavors. Through collaboration, we strive to achieve economic vitality, balanced growth, and environmental protection while preserving Placerville's historic identity.
---
The Development Services Department consists of the Planning Division, Building Division, and Code Compliance. The Department's responsibilities include:
Planning : Advance planning including administering the City's General Plan, Zoning Ordinance, and California Environmental Quality Act Guidelines; development review; public information; permit processing within the City; provides staff support to the City Council and the Planning Commission; and conducting public hearings on land use proposal.
Building :

Construction plan reviews, issuance of building permits and inspections.




Code Compliance :

Correcting Zoning Code violations; nuisance abatement; complaint Investigation ( Complaint form ).
---
updated 3/19/2020