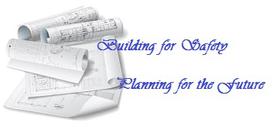 3101 Center St, 2nd Floor, Placerville, CA 95667
(530) 642-5240 - pville.building@gmail.com
The Building Division strives to assure the compliance of structures and other development throughout the City with California Building Codes, the primary objectives of which are safety, accessibility, and energy-efficiency. These objectives are met by way of plan review, building permits, field inspections, and a variety of code enforcement activities, as well as partnerships with local agencies including El Dorado Irrigation District, El Dorado County Fire Protection District, El Dorado County Environmental Management, and the El Dorado County Assessor.
Locating Properties within the City
Construction Permit Information and Construction Permit Application Forms
Plan and Permitting Information (helpful information)
Request a Building Inspection using our online form.
Inspections performed – all day on Tuesdays and Thursday.
Development Services Fee Schedule
Reporting a Fire (EDC Fire Use only)

Snow load
City Code: 4-1-6 : AMENDMENTS TO THE CALIFORNIA BUILDING CODE (CBC); CALIFORNIA RESIDENTIAL CODE (CRC): CBC section 1505.1.1 and CRC R902, Roof Coverings Within Very High Fire Hazard Severity Zones, shall be amended to read as follows: "The entire roof covering of every new structure, and any roof covering applied in the alteration, repair or replacement of the roof of every existing structure shall be a fire retardant roof covering that is at least class A."

CBC section 1607A.11.2, Reduction In Roof Live Loads, shall be amended to read as follows: "No reduction in roof live loads shall be allowed."

CBC section 1608A.2, Determination Of Snow Loads, shall be amended to read as follows: "The roof live load for snow shall be (20) twenty pounds per square foot for all areas of the city of Placerville."
(Ord. 1642, 6-14-2011)
---
Development Services Department, Building Division
City Hall, Second Floor
3101 Center Street
Placerville, CA 95667
Email: pville.building@gmail.com

For general inquiries, to request an appointment : (530) 642-5240
To request an inspection 24 hours a day: (530) 642-5241
---