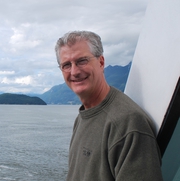 John was elected to the City Council in November, 2022 after having previously served on the Council from 2014 to 2018. John grew up in the town of Crockett in the Bay Area, and began coming to Placerville when his sister moved here in 1976.  John became a full-time resident of the city in 1982.  John's wife of 41 years, Yvette, was born in Placerville at Marshall Hospital where she now works. They have two children, Eva and Adam. Eva, with her partner, is a business owner in El Dorado County. Adam is a police officer in the Bay Area. John and Yvette have four grandchildren Rolla, Ezra, Logan and Conor.
John is the owner of Clerici Consulting. His clients include both private sector companies and a number of public agencies. John also worked as a Transportation Planner for El Dorado County, sold real estate for Coldwell Banker, and was a Forest Technician on the Eldorado National Forest.
John has a degree in Forestry from the University of California, Berkeley (Class of '81). Before being elected to the City Council, John served on the Placerville Economic Advisory Committee. Prior to that John was on the Parks and Recreation Commission, and served as the President of Hangtown Little League and the El Dorado High School Boosters Club.
You can e-mail John at
jclerici@cityofplacerville.org