Public Safety
The Placerville Police Department provides the City's general law enforcement services using sound police administrative practices within the guidelines of current law. The police department's mission statement is, "Dedicated to a partnership between community and the police in a collective effort to improve the quality of life and to promote a safe community". Special emphasis is placed on revitalizing their neighborhood watch and other crime prevention programs.
The Police Department is broken down into four divisions/programs: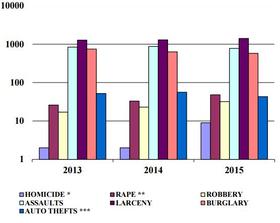 Patrol Services - The police patrol services portion includes the following: Police Patrol
Division;Community Oriented Policing and Problem Solving; Police K-9's; Special Events;
Court Appearances; and Traffic Enforcement. Our primary objective is to implement our
community-oriented policing and problem solving philosophy in the neighborhoods
and business areas within our community.
Investigations - Our Investigations Division, most commonly referred to as our
Detective Bureau, is staffed with one officer (detective) and one sergeant (detective sergeant).
Dispatch, Records and Support Services - The Police Department's Dispatch, Records
and Support Services Division consists several non-sworn employees and volunteers
(SHIELD and Cadets), in addition to answering and dispatching all the 9-1-1 COUNTYWIDE STATISTICS
calls within our city limits
Police Administration - The primary function of this division is managing the administrative responsibilities
of the Police Department, which include personnel, training, budgeting, policy decisions and legal issues. The
Police Chief assumes the overall responsibility for the personnel employed at the police department.