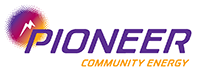 At the City Council Meeting on January 11, 2022 Pioneer gave a presentation regarding their services.  Below is the presentation that was given.  You can also watch the presentation, that includes questions and answers, by clicking here and going to the time of 46:45.
Placerville Council Presentation Staff Report Pioneer Energy 
2022 Energy Rates Offer Pioneer Customers a Significant Savings
Rocklin, Ca. – In December, 2021, the Pioneer Board of Directors approved a 2022 rate adjustment that will provide Pioneer Community Energy (Pioneer) customers with a discount on generation rates of at least 6%, as of March 2022.
Find Energy, an energy research group, recently announced that Pioneer won their highly coveted award for the Lowest Residential Electric Generation Rate in California for 2020.
If you have questions, please call Pioneer directly at 916-758-8969.