Clay Street Bridge Replacement Project (CIP 40617)
WELCOME TO THE CLAY STREET BRIDGE REPLACEMENT PROJECT WEBSITE!
Thank you for taking an active interest in this important community project!
Click here for the most recent update on the project from the 3/12//19 Council Meeting
11-27-18 City Council Meeting Verbal Update
Did you know that the Clay Street Bridge is NOT located in a Historic District? Please see the map below for the project location information relative to historic districts within the City.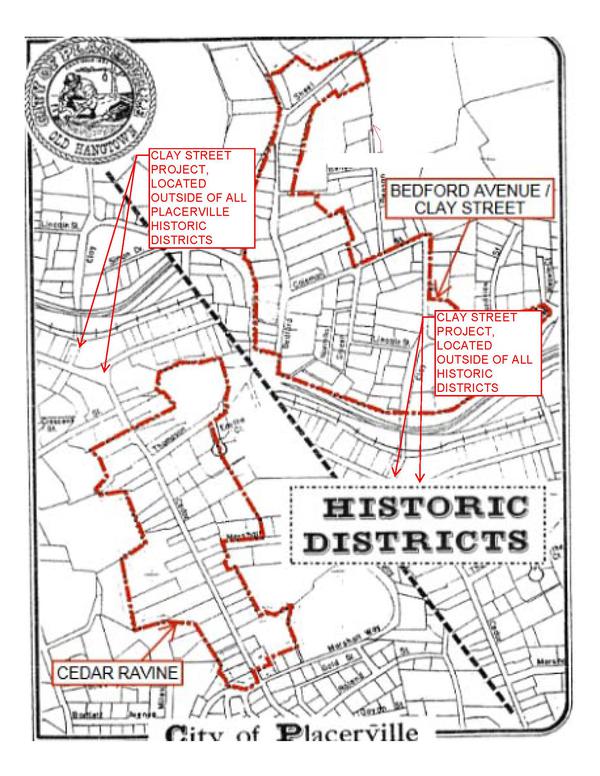 CLAY STREET PROJECT UPDATES
Clay Street Project Frequently Asked Questions (FAQs) #1
Clay Street Frequently Asked Questions (FAQs) #2
Clay Street Project Milestone Schedule
Council Staff Report for Update #1
CLAY STREET DRAFT ENVIRONMENTAL IMPACT REPORT
Clay Street NOA for Draft EIR Public Review
City of Placerville_Clay Street Hangtown Creek Bridge Replacement Project_DEIR
Clay Street DEIR Appendix A_NOP IS and Comments
Clay Street DEIR Appendix B_Air Quality and Greenhouse Gas
Clay Street DEIR Appendix C_Noise
Clay Street DEIR Appendix D_Traffic
Clay Street DEIR Appendix E_Energy
All References Cited in the Draft EIR can be found here: Draft EIR and Cited References
ARCHIVED ITEMS (Most Recent Listed First)
November 15, 2016: Clay Street Realignment and Bridge Replacement Section 106 Solicitation
March 2, 2016: Community Meeting No. 2
Community Meeting No. 2 Flyer
Community Meeting No. 2 Agenda
Community Meeting No. 2 Fact Sheet
Community Meeting No. 2 Power Point
Community Meeting No. 2 Vicinity Map
Community Meeting No. 2 Exhibits
January 6, 2016: Community Meeting No.1
Community Meeting No. 1 Public Comments
Community Meeting No. 1 Flyer
Community Meeting No. 1 Agenda
Community Meeting No. 1 Comment Card
Community Meeting No. 1 Power Point
Community Meeting No. 1 Realignment Exhibit
Community Meeting No. 1 Vicinity Map
Community Meeting No. 1 Exhibit 1
Community Meeting No. 1 Exhibit 2